03/03/2014 - Zone
Zone cheer Allstars wants to send you a huge thank you for coming down and cheering on our team in Dallas! You all were amazing this weekend as well! Your support was greatly appreciated!
02/24/2014 - Passing it along!
If someone can please pass this a long to the mother of this little girl, as she didn't have her phone/camera on her. I do want to say that I was very impressed by the sportsmanship all your girls displayed. You should be very proud of them! From the moment we walked into our hotel to check-in, girls of all ages were walking by wishing my daughter Sophia good-luck and just being sweet saying hi. On the second night, my daughter made friends with this young girl down in the lobby (just being girls and stunting). While myself and another Mom were eating dinner. Honestly I didn't think much about it. Then yesterday as soon as she got off the stage performing... Sophia ran to me saying "mommy my new friend is about to perform and I want to watch". And immediately after she performed, she ran to greet her and her team when they came off. She wanted to find her to tell her that she thought her and her team did great. It was a very sweet moment and her kindness to another team made me proud. Sophia hopes to see her again at future competitions. But thank you for showing my daughter that it's not always about winning... that it's about the relationships you make. Great job this weekend Infinity Girls!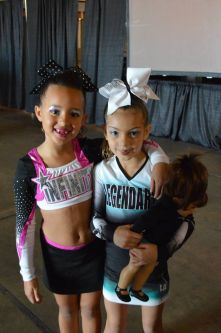 02/23/2014 - Affinity Allstars
Hi, I cheer for Affinity Elite allstars. And wanted to say congratulations on all ur wins this weekend! And wanted to let you know how nice your team was at awards, Congrats again and good luck this season♡☆
02/16/2014 - Heat Extreme
I just want to commend your senior level 2 team for their great sportsmanship this weekend at Diamond Cheer & Dance. During warm-ups, my girls were beginning to crack under pressure (Heat Extreme), your team cheered them on, clapped for them and wished them good luck! The coaches were also very friendly. Thank you infinity for the encouragement! Hail the pink & black!
12/01/2012 - the program speaks for itself
Infinity is producing true all star athletes that can truly compete against any team nationally. Coaching is thorough and consistent from tinies through seniors. Very well organized. Very nice and informative support staff who can answer any question. Practices are focused and time is used wisely. They work. Skills are perfected. Girls feel like a true team and have a lot of pride and self confidence in their team and their team's abilities. They work as one. It is really something to see. They offer day camps when kids are out of school, summer camps,.open gyms, and on Friday nights a dropoff where they can play or work on their stunting or tumbling. Come to an open gym, the program speaks for itself, I am happy I did.
11/27/2012 - Top Notch!
Our daughter LOVES Infinity and is at the gym all the time. This is our second year and we couldn't be happier. The coaches, staff and facility are all top notch. She has learned so much in a short perior of time. We hope to be there for many more years!!!
11/19/2012 - Couldn't be more thrilled!!
My daughter began cheering at Infinity 4 years ago. We have been not only happy with the way the gym is ran, but couldn't be more thrilled with the skills she has learned. The coaches at Infinity are amazing. I'm so proud to be a part of the Infinity Family.
03/06/2012 - Infinity is the Best!
Thanks for all that you do for our girls.....It's because of your love and dedication to our girls that stands as an example of kindness and caring our girls have for each other!!! You ARE the BEST!!
01/25/2012 - Loving Cheer
She is loving cheer so much, it has been such a blessing in her little life. Thank you, Thank you, Thank you!!!!
01/01/2012 - Big/Little Sis Program
Tracie, I just want to give you some testimonial, for what it is worth. This Big and Little Sisters and Brothers thing is the best thing since sliced bread. The fact that you organize this at infinity and then enforce it is pure genius. After she got a Big Sister her outlook has changed. She is cheery about both the practice and non-practice events, had a blast at the Holiday Party, and truly LOVES it now! Please give a compliment or three cheers to Shelby (and her mom) for embracing the Sisters concept, introducing us all around, helping with makeup and hair, giving us good seats (and good advice), and really making a difference for us! An older girl paying attention to a younger one makes them feel like superstars!
Thank you – again, GENIUS!
Cheerful Words - 1 to 10 of 23 Next »